Scary Gary NFT Series
Get ready to be spooked with Scary Gary's Banking Bros – a bone-chilling NFT set featuring Gary Gensler, the current Chair of the SEC, as a range of terrifying villains.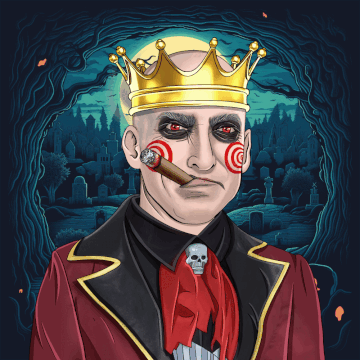 Once a respected professor at MIT (who taught classes about blockchain, no less), Scary Gary has turned into a symbol of injustice for retail crypto investors everywhere, eliminating financial freedom with his regulatory crackdowns on cryptos and blockchain tech. But little do people know, he's just a pawn for private banking overlords, who have transformed him to do their bidding.
On a more serious note, the Scary Gary Banking Bro's NFTs were created to playfully satirize the crypto sector's main "villain," while also raising awareness about the importance of advocating for cryptocurrency in politics. This collection should also serve as a constant reminder: change begins with you!
To date, the SEC has refused to provide clear regulation on how blockchain and cryptos should be regulated, only issuing penalties after the fact. This regulatory uncertainty is driving away legal US businesses and is stifling innovation around blockchain tech. As a cryptocurrency investor in the United States, if you're dissatisfied with how the SEC impacts your investments through their vague crypto enforcement actions, it's time to do something about it. While venting on Twitter may provide temporary relief, it won't bring about the change we need to truly move this space forward.
That's why it's vital to call your Congress members to clearly state your expectations as both a crypto investor and as a constituent. It's time to demand protection for our investments with proactive rules and regulation, rather than reactive, after-the-fact enforcement actions.
If you're ready to make your voice heard in the halls of Congress, join DCTA today! And as a bonus, all DCTA members will receive a free Scary Gary NFT as a thank you for supporting our cause. For our most active members, we will also offer additional Scary Gary NFTs as incentive rewards for contacting your representatives and becoming involved in your state.
How to Get Your Own Scary Gary NFT
There are two ways to get a Scary Gary NFT:
Become a DCTA Member – Receive one Scary Gary for free as an incentive for joining the DCTA as a dues-paying member ($125/year). The collection will be airdropped to members address after signing up and providing a wallet address.
Advocate for Crypto – Once you are a DCTA member you can earn additional Scary Gary NFTs by becoming involved in your local DCTA state affiliate and contacting your state and federal representatives. More details to come soon.
FAQs
What blockchain will Scary Gary be on?
We will be minting the collection on Polygon due to their low fees and ease of use with any Ethereum-based wallet.
Can I buy a Scary Gary directly?
The only way to get a new Scary Gary will be through DCTA membership and advocacy. However, you may be able to buy one on OpenSea or another NFT marketplace if users decide to sell theirs.
How many Scary Garys are in the collection?
There are 10,000 Scary Garys in total, however we will be releasing the collection in waves. To start we will be releasing the first 1,000, to be airdropped to existing and new members.
I signed up – how do I get my Scary Gary?
Make sure to provide a Polygon wallet address when you sign up to be a DCTA member. You can use the same address that you use on any ETH-based chain (Ethereum, Arbitrum, Optimism, Binance Smart Chain, Avalanche, Fantom etc). We will airdrop your Scary Gary within 2-3 days after signing up.

We will be contacting existing members that have not yet provided a wallet address to make sure they don't miss out on this drop.