Regulation is coming to digital assets and cryptocurrencies. Join thousands of crypto users as we band together and ensure our voices are heard as these important laws and regulations are being written.
We're giving you the tools to be your own crypto lobbyist, starting with these three simple steps:
2023 Activity Report
Our team of volunteers has been busy introducing legislation, creating state affiliates, and educating both politicians and consumers about blockchain and the political process.
All of this and more is contained in our 2023 Activity Report.
Get Active on the Front Lines of Crypto Advocacy
Check out our all-in-one crypto advocacy portal, your HQ for everything related to crypto legislation in the United States. We make it easy to:
Track Crypto Legislation
Easily see all federal and state-level legislation related to crypto and digital assets.
Find Your Representatives
Lookup and find your representatives and easily send them emails about current issues in the crypto community
Make Your Voice Heard
We'll raise the alarm about important legislation letting you know when and how to contact your reps for maximum impact.
Join DCTA to Support Crypto Consumer Rights
The Digital Currency space currently lacks a voice speaking for everyday investors and consumers. By joining our alliance we provide opportunities to have a seat at the table and a voice in the decision-making process.
We offer a chance to help write the rules, stay abreast of the latest news and updates, participate in advocacy, and join us at our educational events.
About DCTA
Who We Are
We are a nonprofit coalition of retail investors, consumers, traders, businesses, and thought leaders in the Digital Currency space. We're passionate, regular users of digital assets just like you and we're here to fight for our rights as consumers.
What We Do
We work to ensure that the future of digital currency trading is equitable and open to all by educating policymakers about the digital currency sector, promoting consumer protections, and ensuring everyday consumers have a seat at the policymaking table.
Get the Handbook
We created the DCTA Crypto Consumer Legislative Handbook as an all-in-one resource that you can send to your legislators to educate them about the positive uses of crypto and to dispel the common FUD talking points we regularly hear.
Legislators aren't inherently against crypto, they just believe what they hear in the media – which tends to have a negative bias. It's our job to educate our government officials, and the handbook is the first step to doing that.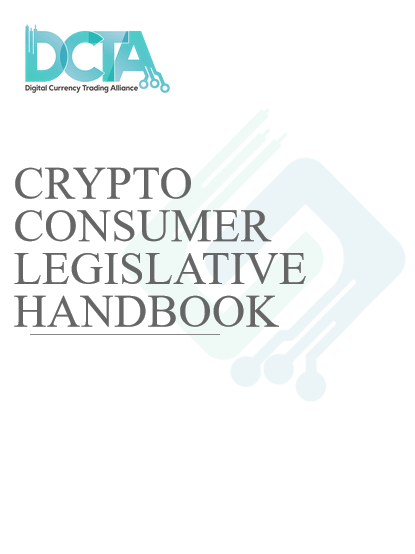 News & Updates
Last month, DCTA Congressional Affairs Coordinator, Shaq Cruz attended the House Financial Services Committee Hearing on the Future of Digital Assets. The hearing focused on two significant topics: legislation regarding …

This winter has been a tough one for cryptocurrency investors. While it is not clear when the market will begin to fully recover, one clear thing is that consumers have …

The DCTA Volunteer Program is a unique opportunity for retail cryptocurrency investors to get involved and make a difference. As a volunteer, you will play a critical role in helping …