User & Demographic Stats
1. There are 221 million unique crypto users worldwide as of June 2021
2. 16% of Americans have invested in, traded, or used a cryptocurrency.
Overwhelmingly, 82% of those users are under the age of 40.
Men are twice as likely to be involved vs women.
Nonwhite ethnicities are between 50% – 100% more likely to have invested or used crypto.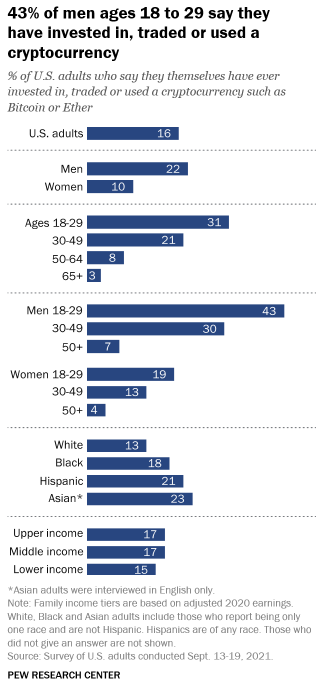 3. There are over 80 million unique bitcoin addresses
4. 11% of American Adults say they have purchased an NFT. Source.
Investment Stats
1. Venture capitalists invested more than $33bn into crypto/blockchain startups in 2021, more than all prior years combined. Source.
2. Over $35 Billion was raised through Initial Coin Offerings (ICOs) between 2016 – 2019. Source.
3. Crypto lobbying investments increased 116% in 2021. Source.
4. 27 publicly traded companies hold BTC on their balance sheets. Source.
DeFi Stats
1. Ethereum settled $6.2 Trillion in transaction volume in one year (Q4 2020 – Q3 2021)
This is already 60% of the total volume that VISA settled in 2021. Source.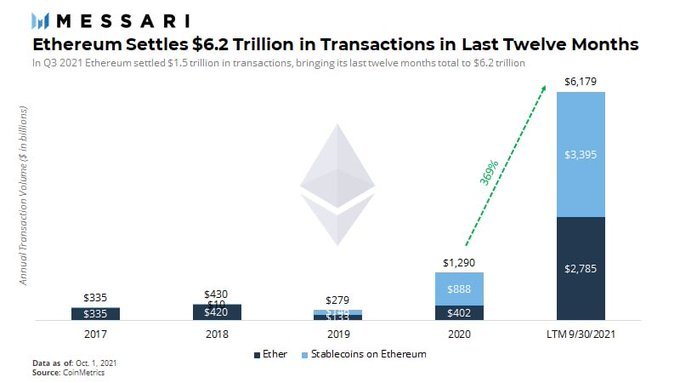 Cryptocurrency Energy Stats
See live BTC power usage at Cambridge: https://ccaf.io/cbeci/index
1. Bitcoin energy usage rose 70% in 2021 and could triple over the next 5 years.
2. Bitcoin mining in 2021 used about 58% sustainable energy, and was sourced from a cleaner energy mix than the bulk of U.S. electricity. Source.
3. Bitcoin's energy use could be used as a load-balancer for excess grid power to help smooth out wind and solar surges. Source.
4. Proof-of-stake-based blockchains (ETH 2.0, SOL, FTM, MATIC, BNB, ONE, ADA, ALGO) use 99.9% less energy than proof-of-work blockchains like Bitcoin.